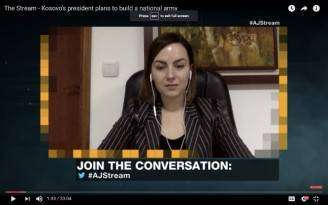 NSI Appears At Aljazeera On The Live Stream
"There is no need for Kosovo Army at this point." Jovana Radosavljević, Executive Director of NSI, participated at the Aljazeera show The Stream, discussing the Kosovo's president plans to build a national army.
The Stream discussed the relationship between Kosovar Albanians and Serbs, and the significance of the president's decision to expand the army. Except, our Executive Director, other participants were: Besa Shahini; Petrit Selimi and Aidan Hehir.