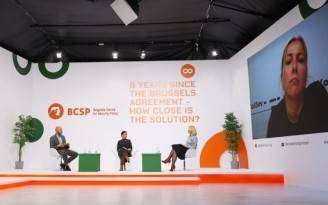 Eight Years Since the Brussels Agreement – How Close Is the Solution
On the occasion of the eighth anniversary of the signing of the Brussels Agreement, the Belgrade Centre for Security Policy (BCSP) is organizing an online panel on Monday, April 19 at 3 pm to discuss the implications of this agreement and how close we are to normalizing relations between Belgrade and Pristina.
After the Brussels Agreement was reached on 19 April 2013, it seemed that the further process of dialogue would unquestionably lead to a compromise solution and the achievement of a binding agreement on the comprehensive normalisation of relations between the two sides. Eight years later, it is clear that the solution is not low-hanging fruit. Unfulfilled promises and regular provocations seem to derail progress constantly.
Although opinion polls show that Kosovo and Serbia's citizens support the Belgrade–Pristina dialogue, most think it lacked transparency, and it did not change anything. In this context, discussants in the first panel will seek answers to the questions: To what extent Kosovo citizens' lives have changed? Has the Brussels Agreement substantially improved anything? How do the Albanian and Serbian communities see the (non)application of its provisions?
Panel 1 Local perspective – The influence of Belgrade–Pristina dialogue on citizens and local communities
Speakers:
Jovana Radosavljević, Executive Director, New Social Initiative
Donika Emini, Executive Director, CiviKos Platform
Tatjana Lazarević, Editor-in-Chief, KoSSev portal
Moderator: Bojan Elek, Researcher, Belgrade Centre for Security Policy
Follow the panel at the following link.